How products are born: Alpha Tekniko consulting services
Those over-allocated R & D and product design resources of yours? Keep them focused on your current strategic mission, and let us help with future, speculative, overflow or market test/research projects.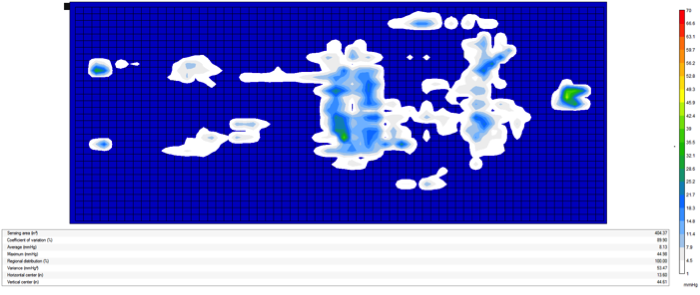 After anatomical zones are created in a mattress design, pressure mapping confirms that vulnerable areas like the back of the head, sacrum and heels are experiencing the lowest possible pressure.
Here are some of the ways Alpha Tekniko has assisted clients with support surface-related consulting:
Support surface product design – mattresses, pads, cushions, safe patient handling devices and other specialty products
Design for manufacturing
Reverse engineering of surface products
Product costing and bill of materials development
Pressure mapping – all types of support surfaces
Thermal mapping – all types of surfaces
Regulatory compliance, both domestic and international
Support surface materials evaluation
Surface fit and performance analysis
Failure analysis; related design improvements
Contact us with an overview of what you need, and we can provide a consulting quote in tandem with your manufacturing assignment or as a separate service.
Typical Design/Build Projects
When a customer wanted to re-shore support surface manufacturing from a Chinese factory, Alpha Tekniko helped them create a solid "made in U.S.A." product story.  With Alpha's lower minimum order quantities, faster lead times and just-in-time production, the client was able to match their launch pace to their cash flow, and quickly modify product designs for the needs of the American market.
A customer-specified mattress design wasn't working properly on an older acute care bed.  Alpha Tekniko obtained one of the beds, re-engineered the surface to perform correctly with the bed's various movements – and helped their customer save the hospital relationship.
An entrepreneurial healthcare company wanted a medical mattress designed for manufacturing, and needed help cutting the cost of goods.  Alpha recommended a different cover fabric, different foam grades, top layer sculpting and a new internal configuration – while maintaining the expected performance of the support surface.